EDDM – A cost-effective way to market your new or growing business to potential customers in Palm Beach County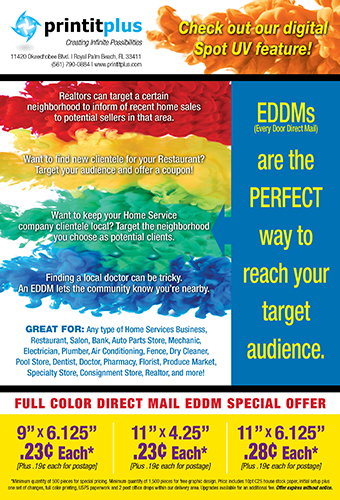 Every Door Direct Mail (EDDM) is a service offered by the U.S. Postal Service which allows individuals and businesses to target postcard mailing pieces to specific neighborhoods. EDDM campaigns offer an opportunity for significant branding and sales success for your business IF you have a good plan for making it happen.
In order to spend those hard-earned dollars that you have allocated toward EDDM marketing successfully requires a plan. The key is to do your campaigns right, from the planning stage right through the client service after the mailers have all arrived at their destinations. You need to choose the knowledgeable, award-winning team at Print It Plus to work with you and your business from beginning to end.
At Print It Plus we have over 30 years of experience with successful direct mail marketing and EDDM campaigns. We will help you strategize, design and execute an EDDM campaign that brings you the best results possible.
Here is just a partial list of all the benefits your business can enjoy from using Print It Plus to help you execute a successful EDDM campaign:
No mailing list required
No permit purchase required (this will save you $450 right off the top!)
All the bundling and confusing US Postal Service paperwork is taken care of for you – by us!
You control the delivery area you want to advertise to
You will get better response with our design team showing you how to take your ideas and make them pop off the postcard to draw interest from your target audience.
EDDM has proven to be one of the most productively personal ways to reach your potential and existing clients. If you execute on a cohesive, focused campaign with a strong call to action that encourages businesses to build a relationship with you your chance at success goes up significantly.
In addition, there is measurable feedback on your direct mailing campaigns because your business can directly count how many responses you see to your mailing piece(s). The bottom line is that for companies who target the consumer marketplace Every Door Direct Mail can be a profitable way to grow their brand and market their business.
EDDM marketing works great for:
Any Type of Home Services business, restaurants, salons, banks, Realtors and Real Estate Brokers, auto parts stores, mechanics, electricians, plumbers, air conditioning companies, fencing companies, dry cleaners, pool stores, dentists, doctors, pharmacies, florists, grocery stores, specialty stores, consignment stores and many more!
And this month we have a SPECIAL OFFER on Full color, direct mail EDDM pieces:
9" x 6.125" for 23 cents each (plus 19 cents each for postage)
This is considered the "standard" size for an EDDM postcard
11" x 4.25" for 23 cents each (plus 19 cents each for postage)
11" x 6.125" for 28 cents each (plus 19 cents each for postage)
Come on in to our home office or invite us to your office and sit down with our experts from Print It Plus and we will share our knowledge and expertise with you to help you decide if an EDDM campaign, some other Direct Mail campaign, or another type of marketing and/or advertising campaign fits your business best.
For more information on us go to our website at HTTP://WWW.PRINTITPLUS.COM. For more information on Every Door Direct Mail click on this link that takes you directly to our webpage dedicated to EDDM at https://printitplus.com/printing/direct-mail/eddm-direct-mail. Or, call us directly at (561) 790-0884. Print It Plus, Creating Infinite Possibilities!