Stretched Canvas Prints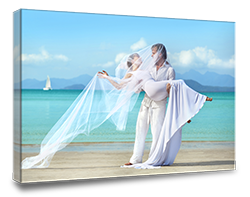 Although it is true that we offer a variety of services including marketing, advertising and website design, the biggest part of our business here at Print It Plus is a part of our name - printing. We offer all types of printing, including business printing, books, calendars, banners, business cards, direct mail, flyers, holiday cards, invitations, letterhead & envelopes, memo pads, posters, prescription pads and wedding invitations. We print in black & white, 2-color, 4-color and full-color printing. And yes, we do practically all of our work in-house, on our own machines in our own manufacturing area.
We also offer Stretch Canvas Printing right here on site, as well. Stretch Canvas Printing is the result of an image printed onto canvas which is stretched, or gallery-wrapped, onto a frame and displayed. We can create stretch canvas prints with stock images of your choosing, or customized with your own photographs. Either way, the results can be stunning:
At Print It Plus we can take any photograph and turn it into a work of art to be displayed for years to come. We use a state-of-the-art 12-color wide format IPF-8300 Canon Giclee printer. Preserve your memories with these timeless works of art. AND these are not your run of the mill stretched canvas from substandard ink jet printers, but they are produced on the Giclee machine making the quality second to none. Then they are coated with a liquid laminate to protect them for years to come. Then they are assembled with Deluxe 2" Frames making them very elegant.
Then we make them incredibly affordable:
We sell them in a range of sizes, square or rectangular
Or any custom size that the customer wants
Our Stretch Canvas Prints are wrapped and stretched on a custom 2-inch frame, unlike our competitors who use a ¾ inch frame
We offer stock images that can be used to decorate your home or office
Or, you can supply your own photos, and we can make them look beautiful on canvas!
For Example: We did 6 beautiful prints for Frenchman's Creek of their golf course that are on display in their clubhouse.
In addition, at Print It Plus we offer you these additional features on your Stretch Canvas Prints:
100% created here
Not mass-manufactured
Not sent out to another printer/location
In addition, you can order your Stretch Canvas / Giclee Prints with:
The photo wrapping the edge
Solid color edges
Creating beautiful Stretch Canvas / Giclee Prints for our clients is just another of the many high quality services we offer at Print It Plus. We also are very effective at helping build the brand of your company through a variety of print, mail, direct mail, advertising, marketing campaigns and/or superior website design. Contact us at HTTP://WWW.PRINTITPLUS.COM to learn more about how we can help YOU to CREATE INFINITE POSSIBILITIES!