Sculpt an Eye-Catching Identity: 5 Bold Business Card Designs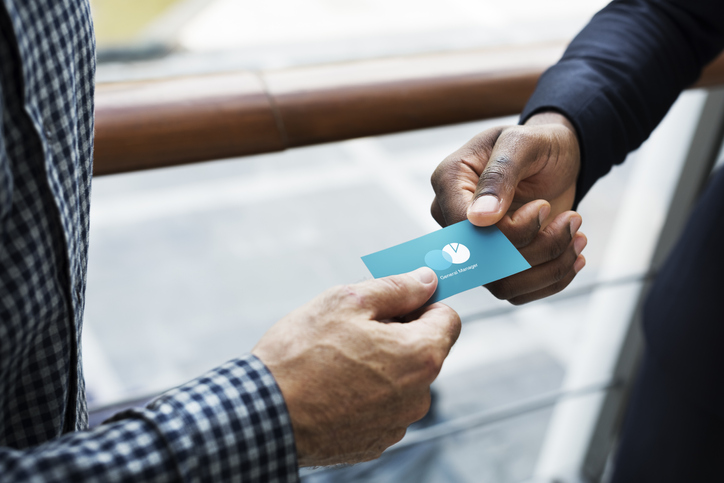 As you exhale after a tumultuous 2020, now is the time to clean out and set yourself up for a productive, successful new season. And one way to invigorate your image is with new business cards.
If you're going to change a little, why not change a LOT? Here are five bold ideas for your next business card design.
1. Smart Cards
A modern business card includes not only contact information but also a stylish design that conveys the character and confidence of your brand.
When you want to close the gap between the physical and digital world, add a QR code to your business card. This saves space, looks modern, and increases the chance readers will follow up with your business later.
And don't limit yourself to something bland. Instead of a black and white character set, generate a color cipher of an unusual shape to attract attention!
2. Transparency and Texture
Tired of the endless exchange of dull and flimsy white paper business cards?
Try a clear, frosted, or white plastic card. Translucent cards are sophisticated, visually intriguing, and fun to hold. And if you split the card into sections with different translucency values (one half partially opaque and the other half textured), you can create intense contrast that makes your name really leap up at the viewer.
3. Colored Edges and Non-Standard Materials
Want a funky, three-dimensional feel for your introduction?
Colored edges are a fantastic option! Use colors to spice up a card with a neutral shade (like a black card with neon purple edges). Or use an unusual shape (like a gray die-cut heart) and add a hot pink outline on the edge.
Remember, the thicker the business card is, the better the colored edges will look. If you want to get really creative, you can even use non-standard materials like cork, wood, metal, or rubber.
4. Gorgeous Gradients
Color blending never gets old, and gradients offer endless options for unique, dynamic combos.
Gradient business cards offer so many possibilities! Add depth with thick pearly tones shimmering against a charcoal background. Or silver-purple waves against a deep blue sky. Voluminous gradients ebb and flow, creating an atmosphere of energetic motion.
When adding gradients, go for sharp color contrasts and highlight key elements. Do not apply the gradient to the entire card. Instead, limit yourself to the one element you want to highlight: background, logo, text, or graphics.
Need inspiration? Here's one gradient sample spread to fuel your imagination.
5. Super Business Cards
Looking for something super impressive and super fun?
SUPER business cards are for you! Cut from premium paper that's durable (yet lightweight), these non-bendy business cards bring a bold impression that LASTS. Customize them to your preferences, with round corners, shiny finishes, raised spot gloss lettering, and more.
Whether you want a muted matte feel or a sleek sparkly vibe, super business cards are guaranteed to be as resilient and creative as you are.
Start a Remarkable New Adventure
Today is the best day to start a new adventure!
Why not make 2021 your most imaginative year yet? Show the world a poised, passionate perspective – that comes straight from your pocket!