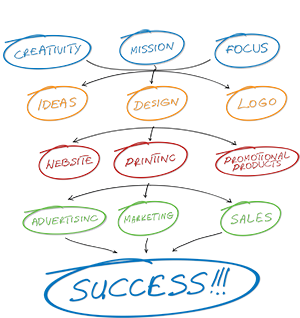 Marketing Solutions for all Businesses
"Creating Infinite Possibilities" is not just a slogan. It is our belief that we will create a brand for your company that captures the attention of your marketplace. The brand you need to be successful.
Your company deserves the best marketing tools from professionals who can guide your through the entire package of print marketing, logo design, promotional products, email marketing, website design and support, business forms, direct mail campaigns, branding, posters, banners and signage. Whether you just started your business, you are looking to re-brand, introduce your company to new potential clients or industries or trying to take your business to the next level, we will help you create the best package for your company.
The most important part of small business marketing is to understand what's available to you, and how different methods can help you gain market share in your industry. Our business marketing packages are crafted to help expand your business no matter your budget. Let us coordinate a package that is right for your company and fits within your budget.