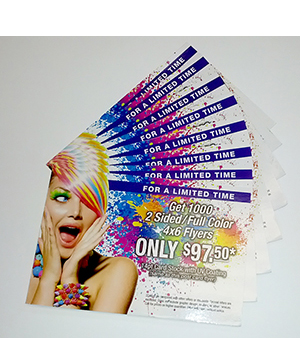 Direct Mail and EDDM Every Door Direct Mail
How many touches or impressions does it take before a prospect decides to purchase a product or service from you? Numerous studies say that the number is anywhere between 5 and over 20…
With a well-designed direct mail campaign in West Palm Beach, the number of touches can be the low end, between 5 and 7 impressions; sometimes, even less. That's why smart companies like yours in this market don't use a "one and done" approach when it comes to direct mail and other forms of marketing.
You want the help of a professional, knowledgeable direct mail company to give you the chance to get the highest return on investment possible. Your target customer should be clearly defined and your mailing list selections should go to that defined customer. We can take a look at your best clients and make a mailing list geared to similar clients. In addition, we know how to develop and execute an effective plan. At Print It Plus we work with you to design, plan and execute a direct mail campaign that will help you get your message across powerfully and directly so that you can capture the potential clients that you want.
Here are some important Direct Mail Facts:
85% of consumers sort through and read selected pieces of mail every day
40% of consumers say they have tried a new business after receiving direct mail
73% of consumers prefer mail for receiving new product announcements from companies they do business with as compared to 18% from email
76% of small businesses state that their ideal marketing mix is a combination of print and digital communications
67% of online searches are driven by offline messages, with 39% of shoppers making a purchase
63% of consumers report that they bought something they saw in a custom publication
Other important aspects of a Direct Mail campaign that you should consider when you decide on which company to use:
Expert graphic design is very important. We have a full time graphic designer with an art degree on staff to create a masterpiece that will get your company attention. We also have the ability to individually print your pieces, so they are very personalized with and without special effects. This is called Variable Data and Images. We can custom create these designs to fit your industry or business.
The other thing to consider is how to mail you marketing piece. The post office now offers Standard Mail (previously called bulk), First Class Presort (indicia printed, but delivered like First Class stamped mail), and the NEW EDDM (Every Door Direct Mail).
At Print It Plus, we have been in the direct mail business for a very long time. We pride ourselves in helping our customers become successful in their direct mail campaigns. As you can see, we are experienced in all aspects of designing, planning and executing a successful direct mail campaign Contact us now for more information at 561-790-0884, or directly through this website.
Or you can request a FREE Whitepaper on direct mail.
Print It Plus – where we use Direct Mail to help YOU CREATE INFINITE POSSIBILITIES.